Don't be confused by the construction activity you see today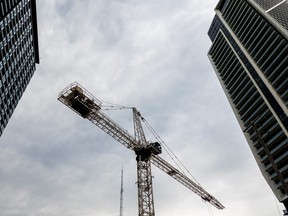 Homeownership remains out of reach for many Canadians — and the crisis looks to be getting worse.
This has been an ongoing issue exacerbated by rising mortgage rates, escalating costs for builders, and a strict mortgage stress test, one that the Office of the Superintendent of Financial Institutions is keeping in place despite calls from some experts to amend the formula. These factors have all come together to make buying a home more challenging — and building the needed housing supply unattractive for developers.
You are reading: DI LORENZO: Housing crisis requires federal revisions to mortgage process
What's changed is that many who had previously negotiated purchases and pre-qualified for mortgages via condominium unit pre-construction sales now face a new hurdle — the Bank of Canada's (BOC) rapid interest hikes that have done little to slow down inflation but have aggravated housing affordability issues.
Few projects will get built without pre-sales of condominiums. Pre-sales not only demonstrate real interest, but they also allow a buyer to secure a future agreed-upon purchase price. Now buyers have lost confidence in the predicable monetary conditions they were promised by the BOC. Thus, pre-sale condominium unit purchases are facing precarious conditions, which threaten to leave buyers without homes, developers hesitant to build, and the province's goal of 1.5 million new units over the next ten years unfulfilled.
Pre-sale condo units allow buyers to negotiate a future-dated purchase price, with a 20% down payment (sometimes less) and a pre-approved mortgage. Buildings are often years away from occupancy (where buyers can move into their unit), followed by a closing date when (depending on the condo corporation's structure) ownership is ultimately transferred and buyers "close" on their individual units. It is at this point in the transaction that buyers must qualify for a second time under Canada's mortgage regulations.
Readmore : North Korean troops encouraged by Kim Jong Un, his daughter
But what happens when rates jump an unprecedented 400 basis points (as they did last year) and the mortgage stress test parameters remain stringent? For many Canadians who entered into pre-sale condo purchase agreements, the changing interest rates and strict stress test could mean they no longer qualify for their mortgages when they go to close.
Condominium developers need pre-sales to start construction. They would not qualify for loans to complete their projects without the deposits and commitments made through pre-construction sales further increasing the cost of housing.
Pre-sales are not without risk for the developer — developers absorb fluctuations in material prices and construction costs. Rapidly rising interest rates, however, fundamentally change the framework of the agreement for the developer and the purchaser, jeopardizing individual deals, and stifling the industry's appetite to build.
Due to the BOC's attempts to rein in inflation throughout 2022, Canada's prime interest rates have shot up rapidly, from 0.25% as recently as February 2022 to the current rate of 6.7%. Under our existing rules, the stress test adds a full 2 percentage points to the calculation used to qualify for a mortgage.
Because of these rapidly rising interest rates, buyers face a heftier monthly payment when their unit is ready to close on — and that can easily be thousands of dollars more than what they planned on. Even if families can absorb this added cost, the 2% "buffer" used in the stress test may mean they nonetheless cannot qualify for their mortgage.
Readmore : Nine minors injured in Georgia gas station shooting, police said
This will not lead to more housing being built as developers and purchasers will be cautious of the fluctuating market — and ultimately lead to less affordable housing in the province as planned new builds are put on hold.
RECOMMENDED VIDEO
Don't be confused by the construction activity you see today — year-over-year sales volume of pre-sale units is down more than 50%, with overall condo sales down 47% according to Toronto Region Real Estate Board figures comparing 2021 to 2022. Today's drop in sales will result in far fewer units 2-5 years from now, making the current housing shortage even worse in the near future. This crisis is a direct result of the Bank of Canada's interest rate policy.
With Canada's banking regulator looking for stakeholder input to further tighten up mortgage regulations combined with unprecedented contributing factors such as supply chain woes that did not accompany previous economic downturns, swift action is needed by government. It is still to be seen if Tiff Macklem's rate hikes will have the intended effect of reining in inflation — but it has increased the cost of housing.
Interest rate hikes have created new pains for both hopeful new homebuyers along with most Canadians. Tighter mortgage regulations and another bump in the BOC's interest rate will undoubtedly disqualify even more potential buyers. It is unlikely that Ontario's housing crisis will improve without federal revisions to the mortgage process, addressing the pre-sale conundrum for buyers and builders alike.
If government is serious about meeting future housing demand, then it needs to underpin the industry with stability through long mortgage caps and a bigger role for the Canada Mortgage and Housing Corporation in construction financing. Let the discussions begin.