The total number of drug poisoning calls for ambulances in B.C. fell for the first time in seven years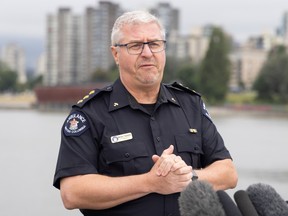 On average, the agency dealt with 92 drug poisonings each day in 2022.
While the drop is encouraging, figures for opioid deaths in 2022, which are not yet available, have been on track to exceed 2,000 for the second year in a row, according to the B.C. government.
You are reading: Fraser Health leads as B.C. overdose calls drop slightly
The 2022 total for ambulance calls was still far higher than every year from 2016 to 2020.
And 2023 is not off to a good start. Emergency Health Services received 203 calls for drug poisoning in the province on Jan. 19 this year, a single-day record.
The 2022 decline in ambulance responses to opioids wasn't spread evenly across B.C. They declined in the Fraser and Vancouver Coastal health authorities but rose everywhere else. Northern Health experienced the biggest increase, a 17 per cent rise from 2021.
"The toxic drug supply is everywhere in this province, and it's affecting every community, every walk of life," said Brian Twaites, a paramedic specialist with the agency. Paramedic specialists are senior advanced paramedics who support other paramedics with difficult cases.
Twaites, who has worked in Vancouver for most of his 36-year career, said that while people tend to associate toxic drugs and substance use with Vancouver's Downtown Eastside or "a bad end of town," the reality was far more complex, with people struggling with — and often hiding — substance use in every part of every community.
"It's in Kits, it's in Point Grey, it's in Shaughnessy — it's everywhere," he said.
Readmore : Defense chiefs fail to resolve dispute on whether to send German tanks to Ukraine
"It doesn't matter which corner of the province you're in," said Troy Clifford, a paramedic in the Okanagan and president of the Ambulance Paramedics of B.C. union. "We expect to do overdoses every day."
He said the typical view of what addiction looks like — someone injecting drugs on the street — doesn't take into account the range of people paramedics are being called to save.
"When we see it in the Okanagan, we see a real mix of everything," Clifford said. "You're talking about the weekend user or the guys that are doing it in secret or the recreational user on holidays."
"You're going to overdose after overdose after overdose," said Stu Myers, an advanced care paramedic based in Nanaimo. "Emotionally, it's draining."
In smaller communities, he said, it's not uncommon to be called to a family home where a paramedic may try to resuscitate someone while a young child is in the room next door.
Drug poisoning is also far more complex to reverse than in the past.
"When we were giving Narcan to people in the early '90s, we were giving a very low standard dose," he said. "Now, we're giving people five, six times the standard dose of Narcan before they even start breathing."
"They're very intense calls for paramedics and first-responders to deal with because people are very, very close to dying," Twaites said, who explained that patients are often "deeply unconscious," without adequate oxygen circulation.
"You've only got about four to six minutes before brain cells start actively dying from the lack of oxygen," he said. "And a few minutes past there, you can lapse into cardiac arrest.
Readmore : Callum McGregor is Celtic and Scotland's 'coach on the pitch' as 50 cap club looms for midfield stalwart
"We need to get on top of these patients' respiratory status, we need to put an airway into them. We have to get their oxygen levels back up. And then we worry about getting the Narcan into them," he said.
In Fraser Health, where drug poisoning calls fell almost 10 per cent from 2021, emergency rooms also experienced a drop in visits for suspected drug poisoning.
Preliminary results from the B.C. Coroners Service also suggest a decline in drug-poisoning-related deaths in Fraser Health in 2022 compared with the previous year, according to Ingrid Tyler, Fraser Health's chief medical officer. The health authority is using it data to identify populations at higher risk of drug poisoning, then tailoring services to the specific needs of those groups.
Tyler said the complex nature of the toxic drug crisis meant that no one solution can address the crisis and its resulting deaths. She said that a number of new services, including new overdose prevention sites, outreach teams and drug-checking services, among others, may have contributed to the decline in drug poisonings in the region.
Visits to overdose prevention sites in the authority tripled to nearly 13,000 in November 2022, up from about 4,000 in November 2021, for example, as the health authority increased the number of sites, including a mobile one in Abbotsford.
Drug-checking services operate at 13 sites in the authority, giving users a better sense of what is in their drugs so they can adjust dosage or even avoid a particular batch entirely.
Additional outreach teams have been set up across the region, especially on weeks when employment assistance cheques go out, a period Tyler said has a well-documented increase in overdoses and deaths.
Tyler said she it's hard to say for sure that the additional services are behind the drop in cases, but hopes they are making a difference.
"The ultimate goal is less deaths," Tyler said. "We have been putting a lot of effort into trying to make a difference in the face of this crisis."
---