Trudeau said there are bigger issues at play, including staffing shortages, support for mental health and better data and it's not only about money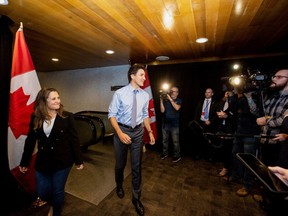 OTTAWA — Prime Minister Justin Trudeau has agreed to a long-demanded meeting with provincial premiers to talk about health-care funding.
Trudeau announced Wednesday morning he had invited premiers to Ottawa on Feb. 7 for a "working meeting" on health-care funding. Trudeau has been in Hamilton, Ont., this week for meetings with his cabinet, ahead of a return to Parliament next week.
You are reading: Trudeau agrees to health-care meeting with premiers but 'won't be signing deals'
Trudeau said the meeting with premiers is about working on the problem and finding a way to address the real issues.
Readmore : NFL star JuJu Smith-Schuster covers nearly $10,000 in layaway balances at Kansas City store
"It'll be a good moment for us to gather, but we're not going to be signing deals on that particular moment."
Premiers have been demanding a meeting with Trudeau for more than a year to discuss health transfers. The provincial leaders want Trudeau to significantly raise the amount of money the federal government contributes to 35 per cent of health-care costs.
The federal government argues it already provides that through tax-point transfer agreements, but the provinces want an increase in the Canada health transfer. Meeting their target would cost the federal treasury $28 billion.
Readmore : Ardon Jashari sparks Celtic transfer interest as champions 'contenders' alongside Napoli for £6m Swiss star
Trudeau said more issues than money are at play, including staffing shortages, support for mental health and better data sharing.
"Let's be clear, providing money is certainly part of the solution and we will do that. But funding alone won't solve the issues that we're seeing."
More to come …