This likely-battery-powered sport-ute looks unlike anything we've seen from Ford—and we wonder if it'll be built in Ontario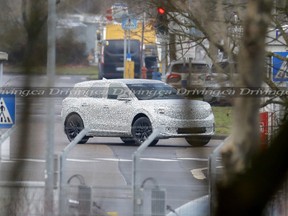 If anything, it seems clear this sport-ute is based on Volkswagen's MEB platform, likely as a part of Ford and VW's partnership announced almost exactly four years ago at the Detroit auto show. These pictures were taken at the proving grounds of Ford's Electrification Center in Germany, which lends credence to this EV sharing VW underpinnings.
It's presumed this electric SUV will offer similar performance and range numbers as the ID.4. The latter is rated at an estimated range of 443 km for RWD models; and up to 410 km for AWD versions. It's projected the unnamed Ford electric SUV could offer a range of up to 300 miles, or 483 km.
You are reading: Could this be the new Ford Edge, resurrected as an EV?
Readmore : Audi introduces Activesphere pickup-coupe concept vehicle
Based on the images, the five-seater SUV looks broader and beefier than the ID.4 without taking up any extra real estate. It's difficult to make out any specific details, even when zooming into the pictures. The fact is, it doesn't really resemble any of Ford's current SUVs in Europe, or North America for that matter.
The real question is whether or not it will come to Canada in the near future. More specifically, is this one of the "up to five new vehicles" Ford will assemble in Oakville as a replacement for the Edge and Nautilus it's planning to stop building there? Very little is known at the moment, but it certainly looks like a promising addition.