The Vancouver Bandits, the CEBL's pro basketball team based in Langley, will be in the championship mix this season as they host the playoffs at the LEC.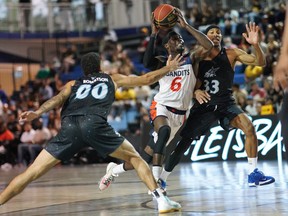 All roads to the Canadian Elite Basketball League's championship weekend lead to Langley.
And the Vancouver Bandits will be there at the end of it, too.
You are reading: Can Vancouver's pro basketball Bandits finally break through to win a national title in 2023?
The Langley-based pro basketball team announced its 2023 schedule on Tuesday, a 20-game regular season that begins on Saturday, May 27 on the road against the expansion Winnipeg Sea Bars.
There's a quick stop four days later in Saskatoon to take one the Saskatchewan Rattlers, before returning home for their home opener against another new CEBL entry — the Calgary Surge — at the Langley Events Centre on Saturday, June 3.
The arena will also be the site of this year's CEBL Championship Weekend on Aug. 9-13, where, as the host team, the Bandits get an automatic bid.
After missing the playoffs in their inaugural season, the Bandits have made the post-season for three straight years. The team changed its name from the Fraser Valley Bandits to Vancouver Bandits after last season, their first year after moving from the Abbotsford Centre to the LEC.
The Bandits have 10 regular-season home games this year, wrapping up with a game against the Sea Bears on Sunday, July 23. They play two more away games before returning to the Lower Mainland to get ready for the playoffs.
Tickets for the championship weekend are included in the cost of seasons tickets, which go on sale later this week.
"This season is a special one for us. We are celebrating five years of building connections with our community and are eager to continue growing our passionate fanbase, which has supported us since our inaugural season. Our fans are the inspiration behind our goal of being one of the best professional sports and entertainment experiences in B.C.," Bandits team president Dylan Kular said in a release.
"We can't wait to host Championship Weekend at the Langley Events Centre, which will serve as a great culmination of what will prove to be another exciting year of Bandits basketball. Fans will relish the chance to be part of our season and attend a multi-day playoff festival that offers a fun atmosphere for guests of all ages and showcases a riveting caliber of Canadian professional basketball."
The league placed four players in the NBA last season, including CEBL MVP Xavier Moon.
Readmore : Boxing tonight: Schedules, live streams, times for Bivol, Ramirez, Cameron
Select games will also be televised nationally on CBC.
SCHEDULE
Saturday, May 27 at Winnipeg, 5 p.m.
Wednesday, May 31 at Saskatchewan, 6 p.m.
Saturday, June 3 vs. Calgary, 7 p.m. 
Tuesday, June 6 vs. Winnipeg, 10 a.m. 
Friday, June 9 at Brampton, 4 p.m.
Saturday, June 10 at Niagara, 4 p.m.
Wednesday, June 14 at Calgary, 6 p.m.
Saturday, June 17 vs. Saskatchewan, 7 p.m. 
Wednesday, June 21 at Winnipeg, 5 p.m.
Sunday, June 25 vs. Calgary, 5 p.m. 
Readmore : Kayouloud has 16, Central Arkansas tops Idaho St. 81-77
Saturday, July 1 vs. Edmonton, 7 p.m. 
Monday, July 3 at Edmonton, 1 p.m.
Sunday, July 9 vs. Ottawa, 7 p.m. 
Friday, July 14 vs. Brampton, 7:30 p.m.
Sunday, July 16 vs. Montréal, 5 p.m. 
Wednesday, July 19 at Saskatchewan, 6:30 p.m.
Friday, July 21 vs. Edmonton, 7:30 p.m. 
Sunday, July 23 vs. Winnipeg, 7 p.m. 
Thursday, July 27 at Ottawa, 4:30 p.m.
Sunday, July 30 at Scarborough, 4 p.m.
*Home games at the LEC in bold
Check out our sports section for the latest news and analysis. Care for a wager? Head to our sports betting section for news and odds.