This futuristic EV aims to modernize the traditional SUV, but will these features make it to production?
Hyundai calls the Seven a futuristic SUEV (Sport Utility Electric Vehicle). If "futuristic" means plenty of razzle-dazzle, party tricks, and interesting design elements, then Hyundai seems to be on the right track.
However, it's important to note this is a concept vehicle, and a lot can change before it hits production. On the other hand, according to a Hyundai Canada representative, "What you see in the concept versus what will make it to production could be very similar." The last word from the automaker, though, is that "as expected, there isn't anything official we can give you as far as confirmed details" — as previously mentioned, no actual details have been released yet.
You are reading: 8 Way-cool features hiding in the Hyundai Concept Seven
Until we've got a better idea of what features will stay and what gets cut, here's what currently stands out in this SUEV.
Coach doors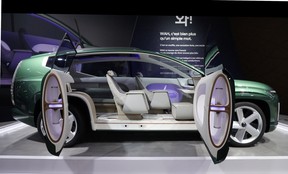 With a wheelbase of 3.2 metres (10.5 feet) the two coach doors open wide and elegantly, allowing easy access in and out of the Seven. There's no B-pillar, a key structural element for modern vehicles, so I question how this will fare in crash tests. Plus without a B-pillar, the seatbelt has to be mounted and anchored somewhere else.
Rear door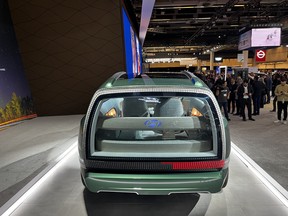 SUVs and crossovers generally configure the upper portion of the back door/hatch/liftgate as a piece of glass, with the lower portion metal. The Seven sees the majority of its back end sheeted in glass, though, which, like the coach doors, may not fare well in crash tests. Yes, there's a horizontal bar across the middle, but I'm not sure that's enough.
It enhances an already spacious cabin, which uses light-coloured materials paired with a massive panoramic moonroof that Hyundai calls "Vision Roof Display."
Vision Roof Display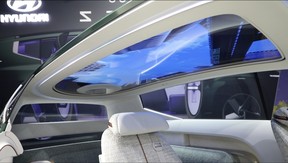 Readmore : Influencers fraud: 8 charged in social media 'pump-and-dump' stock scheme
"Seven Concept's Vision Roof Display features a panoramic OLED screen that not only displays various content based on passengers' tastes but also changes the overall interior atmosphere for maximum relaxation or enjoyment, to guarantee maximum relaxation and pleasure during the journey," says Hyundai.
Cool, it's a massive screen in the roof. I think it's highly unlikely that the OLED portion will make it to production, at least not for another few years, but who knows? It'll probably end up being a fixed moonroof at the time of release.
Front passenger seat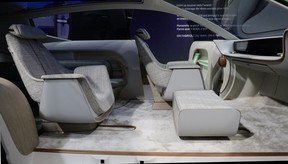 The forward and backward movement of the front passenger seat is quite long, which means it would give long-legged people the ultimate amount of comfort. However, if you're at the furthest position from the dashboard, we question the logistics of the front airbag's deployment and how that might be impacted.
The ottoman in front of the front passenger seats also moves forward and backward, though not as much as the front seat. It can come in handy for long drives but could be cumbersome for frequent shorter trips. Based on its placement in the above picture, the ottoman blocks the front passenger seat from ever being able to line itself up with the driver; that's an interesting choice.
Rear seats
The Hyundai Concept Seven has the shape of a three-row SUV on the outside — which is what it was meant to be. But on the inside, the rows are a bit more complicated than in a regular SUV. Technically, there's a front row that consists of the driver's seat, then a second row made up of just the front (middle?) passenger's seat — the driver and front passenger can never actually be beside each other. In the third-ish row, there's L-shaped lounge seating, with one portion running behind the driver's side and the other along the rear.
Innovative? Yes. Visually appealing? Yes. Does it mimic a living rooms on wheels? Yes.
Readmore : Miracle chicken 'Mrs Senga Culfeathers' survives lorry crash that killed dozens of birds
How practical is it? Well, the seatbelt issue comes up again, as do the airbags. The seatbelts could be anchored to either the seats or behind the second door, we suppose.
You might also notice one side of the L shape runs along the back of the vehicle, eliminating a cargo space. There's a small table behind the passenger seat, and it really does come across as an inviting space, but not what you'd expect in an SUV.
Control Stick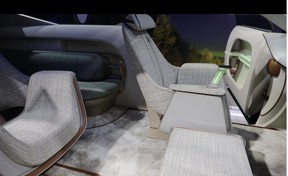 There's also what Hyundai calls a "Control Stick" that raises and collapses from the right side of the driver's seat. No specifics on what that will control, but I expect it to be infotainment-system-based.
Shoe-cleaning cubbies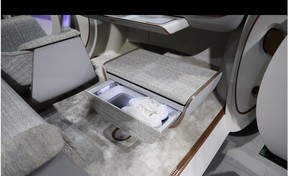 Remember that ottoman placed in front of the passenger's seat? Well, it's actually a retractable drawer-cubby where — in addition to another under the rear seat — shoes can be placed for cleaning and deodorizing. I suppose if you're in a confined space with family/friends/light enemies, stinky shoes are very much unwanted. It only makes sense that foul footwear should have an on-board solution in this electric rolling lounge.
Retractable dashboard drawer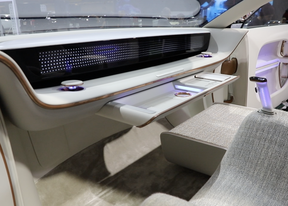 Emerging from the middle of the dashboard and below the massive infotainment screen is a smart storage solution in the form of a powered drawer. No issues here, but I do hope it can be manually opened, as opposed to what you see in the video, which shows it using a motor.
Materials
Eco-friendly materials include bio-paint on the exterior and hygienically-recycled and renewable materials on the inside. Mineral plaster, bamboo wood and carpet, bio resin, and interior paint are based on renewable sources that can diminish pollution in the production process.
If the now-defunct BMW i3 could do it years ago, I think the Seven can definitely bring this eco-friendly concept to production. Now let's see about the rest of these features.