The delay of the Broadway Subway line was due to the five-week Lower Mainland concrete workers strike earlier in the summer.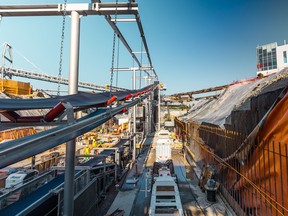 The completion of Vancouver's Broadway subway line has been delayed to 2026 due to the concrete strike earlier this summer.
The five-week strike in June by Lower Mainland concrete workers — which saw almost 300 people off the job and affected more than half of construction projects in Metro Vancouver and the Fraser Valley — delayed the start of tunnel boring for the $2.83 billion project that would extend SkyTrain service nearly six kilometres west along the Broadway corridor.
You are reading: Vancouver's Broadway subway line delayed to 2026
As a result, the project's completion date has been delayed from late 2025 to early 2026, said B.C.'s transportation ministry in a news release Thursday. It said it would provide a more precise timeline next spring when excavation work on stations and tunnel boring are further along.
Readmore : Wall Street slips, gives back some of last week's big gains
The project remains on budget, said the ministry.
Excavation of the tunnels began Oct. 7, with the launch of Elsie, one of two giant 1,000-tonne boring machines, from the future Great Northern Way-Emily Carr station. It has been steadily tunnelling towards its next stop, the future Mount Pleasant Station on Broadway and Main.
The project has hit another milestone with the second boring machine, Phyllis, now fully assembled and set to launch.
Readmore : Revamp Your Wardrobe for the New Season With These Fall Fashion Steals
The German-made machines were named after influential British Columbians. Elsie is named after Elizabeth MacGill, the first female aeronautical engineer and professional aircraft designer in the world, while Phyllis is named after nurse, mountaineer and B.C. Girl Guides founder Phyllis Mundy.
The machines are expected to take about a year to excavate the subway line's two tunnels.
So far, more than half of the columns for the guideway between VCC-Clark and Great Northern Way-Emily Carr Stations are complete, said the ministry.
The Broadway subway extends the Millennium Line from VCC-Clark Station to Broadway and Arbutus, cutting the average transit time of almost 30 minutes to 11 minutes. Once completed in 2026, the new line is expected to  transport about 150,000 people daily.
---