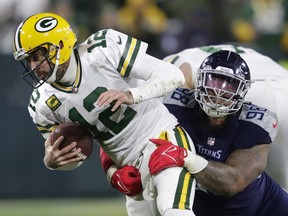 BEST BETS
HOUSTON TEXANS (1-8-1) AT MIAMI DOLPHINS (7-3-0)
You are reading: NFL WEEK 12 PICKS: Sunday will be a fun day for Florida-based teams
LINE: Miami -13.5
CHEWABLE: Looks like Texans coach Lovie Smith has figured out a way to stop Davis Mills from throwing interceptions — he has reportedly sacked his starting QB and handed the duties this week to Kyle Allen. Sometimes a change sparks a team but in this case, it's doubtful to change much. Allen hasn't entered a game from its beginning in two years, and since 2018 coaches have seen fit to put him in an average of five games per season, garbage time and all … Lucky Allen gets to make his Texans debut just as Bradley Chubb should be getting comfortable and ready to answer the Dolphins' need of a pass rusher … Texans brightest light all season, rookie RB Dameon Pierce, has 10 carries for eight yards in last week's 23-10 loss to Washington … Houston has won just four of its last 26 games and while the Dolphins are giving up a lot of points in this one, Miami has become a machine since Tua Tagovailoa returned from a concussion, scoring 31, 35 and 39 points in the three games leading into last week's bye … Coming back from the break Tyreek Hill and Jaylen Waddle are first and fifth among all NFL pass catchers in receiving yards, and once they stake the Fish to an early lead the very capable Raheem Mostert and Jeff Wilson Jr. will take advantage of the league's worst run defence.

TAKING: MIAMI -13.5
SCORE (O/U 45.5): Dolphins 35, Texans 12
LOS ANGELES RAMS (3-7-0) AT KANSAS CITY CHIEFS (8-2-0)
LINE: Kansas City -14.5
CHEWABLE: As if this wasn't already a mismatch of gigantic proportions, another concussion for Matthew Stafford means the rotten Rams will likely have as their QB third stringer Bryce Perkins, who has never started a NFL game, was never drafted and doesn't own a restaurant chain frequented by Tiger Woods … Before the season started you might have looked at this one as a possible Super Bowl preview, with two teams that finished 12-5 last year butting heads in Week 12. Instead, it's a gimme for the best team in football … Patrick Mahomes should be able to record his sixth consecutive 300-plus yard throwing day against a Rams team that offers very little in the way of a pass rush, despite employing Aaron Donald. It's plausible that he could have his third, 400-yard game of the season, which would be the 10th of his career, which would pull him into a tie for seventh most with, you guessed it, Stafford. Of course Stafford is also seven years older and played in the league nine seasons longer than Mahomes, but who's counting … Perkins might have a chance to score some points if Cooper Kupp wasn't out with a high ankle sprain. I could QB the Rams with Kupp as a go-to … Chiefs have actually only won two games by at least 15 points this season. Until Sunday.
TAKING: KANSAS CITY -14.5
SCORE (O/U 44): Chiefs 37, Rams 14
GREEN BAY PACKERS (4-7-0) AT PHILADELPHIA EAGLES (9-1-0)
LINE: Philadelphia -7
CHEWABLE: Why did Aaron Rodgers tell the world he's been playing with a broken thumb if he didn't want to use it as an excuse for his poor play? I know what you're saying: "Wait, he's thrown five TD passes and no picks the last two weeks. Poor play?" That's true, but he also hasn't passed for 300 yards in 15 games, and since the last time he did, Mahomes has had seven 300 yard games while Tom Brady's had five … Don't expect Rodgers to have a good day against the Eagles and their book-end, shutdown corners, and exceptionally strong pass rush … Packers can try to run the ball, but Aaron Jones and A.J. Dillion will find that Ndamukong Suh and Linval Joseph have successfully strengthened Philly's run defence … Eagles are 5-1 ATS in their last six home games against a team with a losing record … Dumb mistakes have prevented the Eagles from covering in the last three weeks. They are now 5-5 ATS, but 4-1 ATS at home.
TAKING: PHILADELPHIA -7
SCORE (O/U 46.5): Eagles 30, Packers 20
and the rest ….
BALTIMORE RAVENS (7-3-0) AT JACKSONVILLE JAGUARS (3-7-0)
LINE: Baltimore -4
CHEWABLE: Ravens have won four in a row, while the Jags lost six of seven heading into last week's bye and are one of the worst (3-7-0) ATS teams in the league. Jags have also lost their first game back from the bye for four straight years. Easy pick, right? Not so fast. This Jacksonville team is better than the four before it and Doug Pederson is a good coach who no doubt spent the off-time coming up with ways to get his troops back on the track they were travelling when they won two of three to start the season. He'll have some idea as to how the Jaguars can buy extra time for the Trevor Lawrence against an improved Ravens pass rush, and a plan to get rookie RB Travis Etienne the ball out of the backfield, as Baltimore has been doing a better job against the run of late … Jags have only one double-digit loss this season, and that was their last game, a 27-17 setback at the hands of the Chiefs. Their three home losses have been by one score … Ravens are 0-4-1 ATS in their last five visits to Jacksonville and 1-5 ATS in their last six meetings with the Jags overall … Lamar Jackson missed practice Wednesday with a hip issue but intends to play through it. The way he manoeuvres and runs, he needs his hips. This smells like the upset of the week.
TAKING: JACKSONVILLE +4
SCORE (O/U 44): Jags 24, Ravens 21
Readmore : Man Utd are starting to get another Carlos Tevez and Paul Scholes ahead of Real Sociedad
DENVER BRONCOS (3-7-0) AT CAROLINA PANTHERS (3-8-0)
LINE: Denver -2.5
CHEWABLE: Over to you, Sam Darnold. The former Jets first rounder will be under centre for the Panthers – replacing Baker Mayfield, who replaced the injured P.J. Walker – and it will be his first start since he was 4-7-0 with more interceptions than TD passes for Carolina last year. Still, he can't be any worse than Mayfield was in last week's 13-3 loss to Baltimore, and this is probably Darnold's last shot at being an NFL starter. No matter who's QB for the Panthers, their offence can't be much worse than the Broncos with their first year as Russell Wilson at the wheels … What is 7-5-32? Wilson's TD passes-interceptions-times sacked … Defences might outscore offences in this one.
TAKING: CAROLINA +2.5
SCORE (0/U 36): Panthers 12, Broncos 9
ATLANTA FALCONS (5-6-0) AT WASHINGTON COMMANDERS (6-5-0)
LINE: Washington -4.5
CHEWABLE: Chase Young has now been activated off IR – which doesn't guarantee he'll be wearing a game jersey this week – but if the wait is finally over one of the best passing rushing teams in the league will be adding one of the best pass rushers in the game. And it will be just in time for a showdown with a team that has a very weak passing game … How have the Falcons managed five wins? They rank 30th in defence and 26th in offence  … Commanders only loss in the last six games was by three points to the Vikings. Led by Taylor Heinicke they are fighting hard for a playoff spot in a tough division and it's inconceivable that they let this inferior team get in their way.
TAKING: WASHINGTON -4.5
SCORE (O/U 42.5): Commanders 20, Falcons 14
TAMPA BAY BUCCANEERS (5-5-0) AT CLEVELAND BROWNS (3-7-0)
LINE: Tampa -3.5
CHEWABLE: If the Bucs are truly rounding the corner, like their two victories before last week's bye suggests, it's a slow and lazy turn. They edged the Rams 16-13 and then held off a late charge by the Seahawks for a 21-16 win. With all that offensive talent and the GOAT QB, they're still the 27th highest scoring team in the league. Here's a good chance to improve on that, as the Browns have played poorly on defence for much of the season and surrendered 70 points in their last two games … Browns have one win in their seven games and, barring the unforeseen, will make a QB change after this one as DeShaun Watson will be returning from suspension … Bucs are 4-1 ATS in the last five meetings … I might like Cleveland to cover if Nick Chubb was okay but, after averaging 41 yards rushing the last two games, clearly he's not.
TAKING: TAMPA -3.5
SCORE (O/U 43.5): Buccaneers 24, Browns 20
CINCINNATI BENGALS (6-4-0) AT TENNESSEE TITANS (7-3-0)
LINE: Cincinnati -1.5
CHEWABLE: As much as Derrick Henry should be able to rip through a Bengals run defence ranked 17th, the Titans ain't runnin' away with this one. Only two teams have a worst pass defence than Tennessee, and Dr. Joe Burrow says he expects Ja'Marr Chase to return from a hip injury this week. If Burrow the quarterback has the time to work he did facing T.J. Watt and the Steelers defence, the addition of Chase should allow him to put up similar numbers (355 yards, four TDs) as he had against Pittsburgh … Bengals are on a 5-0 ATS run against Tennessee … Titans have won seven of their last eight, but the combined record of the teams they've beaten is 25-46-3.
TAKING: CINCINNATI -1.5
SCORE (O/U 42.5): Bengals 24, Titans 21
CHICAGO BEARS (3-8-0) AT NEW YORK JETS (6-4-0)
LINE: New York -4.5
CHEWABLE: It now looks like Justin Fields will miss this game with a shoulder injury that his coach had previously diagnosed as both  a day-to-day thing and a possible season ender. That means Trevor Siemian and Mike White will go head-to-head in a battle of the backups. Get the popcorn … Jets have a significantly better defence, and don't be surprised to see James Robinson and/or Michael Carter rack up some yards against a Chicago team that is 29th best at stopping the run … Bears are 5-0-1 ATS in their last six meetings with Jets … I'm not going to simplify things by saying Bears beat the Patriots 33-14 four weeks ago and the Patriots shut down the Jets 10-3 last week, but I'm also not going to take take Gang Green when they're spotting more  than four points to anybody these days. No matter who's at quarterback.
Readmore : David de Gea requests Sky Sports activities interview as Man Utd star opens up on 'horrible day'
TAKING: CHICAGO +4.5
SCORE (O/U 41.5): Jets 13, Chicago 10
LAS VEGAS RAIDERS (3-7-0) AT SEATTLE SEAHAWKS (6-4-0)
LINE: Seattle -3.5
CHEWABLE: Whatever Geno Smith did during the bye week, let's hope he didn't change. His story from career backup to a MVP candidate ranks among the best of the season … Smith should have plenty of time to re-connect with his talented receivers in Week 12, as Maxx Crosby provides the Raiders only pass rush … Can Raiders build off last week's slump-busting OT win over the Broncos? Maybe, but Seahawks had extra time to figure out a way to slow the Vegas three-person offence of Derek Carr, Josh Jacobs and Davante Adams .. Raiders are 1-5 ATS in their last six returns from a bye.
TAKING: SEATTLE -3.5
SCORE (O/U 47.5): Seahawks 28, Raiders 24
LOS ANGELES CHARGERS (5-5-0) AT ARIZONA CARDINALS (5-6-0)
LINE: Los Angeles -4.5
CHEWABLE: Kyler Murray returned to full practice this week, which means the Cards will have a better chance of keeping up with the Chargers than had Colt McCoy started again. Nothing against McCoy, but Arizona need their nimble-footed QB in there to have any chance against a Los Angeles squad that impressively went toe-to-toe with the Chiefs on Sunday night – especially with the Cards likely missing WRs Rondale Moore (groin), Greg Dortch (thumb) and possibly Marquis Brown … Cardinals are 4-1 ATS following a straight up loss … James Connor should have a big day, given the Chargers rank 30th against then run, but Justin Herbert can also take advantage of the 23rd best pass defence in the league.
TAKING: ARIZONA +4.5
SCORE (O/U 47.5): Chargers 24, Cardinals 20
NEW ORLEANS SAINTS (4-7-0) AT SAN FRANCISCO 49ERS (6-4-0)
LINE: San Francisco -9.5
CHEWABLE: This lines up as another game where the favourite is a no-brainer to cover the large spread. Niners love to pound the ball along the ground, Saints have trouble stopping the run. Niners have a strong O-line in front of Jimmy Garoppolo – who had all sorts of time to throw four TD passes in Monday's dominating 38-10 win over the Cardinals – Saints have the second worst pass rush win rate in the league. Saints best offensive player is RB Alvin Kamara, Niners have the best run defence in the league. The thing of it is, while they're tied with Seattle for first place in the NFC West, the Niners should be comfortable in their own skin. They have to know they're going to make the playoffs and take a strong shot at the sixth Super Bowl title. Saints, on the other hand, have had a very poor season to date, yet they are still one win from first in the NFC South. How much weight does being the more desperate team pull? … Then there's the fact that Kyle Shanahan, perhaps the brightest coach in the NFL, does a lot of things right, but covering large spreads isn't one of them. Shanahan is 12-18 ATS as a favourite of 3.5 or more points. Who's at the back door, hun? Why look, it's the Saints, and they're coming right in.
TAKING: NEW ORLEANS +9.5
SCORE (O/U 42): Niners 30, Saints 23
PITTSBURGH STEELERS (3-7-0) AT INDIANAPOLIS COLTS (4-6-1)
LINE: Indianapolis -2.5 
CHEWABLE: If this one comes down to the ground games of both teams – and why wouldn't it when you have unreliable 24-year old rookie Kenny Pickett vs. unreliable 37-year old veteran Matt Ryan as the quarterback matchup – you might lean towards the Colts. Underachieving Jonathan Taylor only has two 100-yard games this season, but that's two more than underachieving Najee Harris. But with both teams having good run defences (Steelers 7th, Colts 11th) the passing games should be a factor. In that case the advantage goes to Pittsburgh. Now you're saying, "wait, the Steelers have the 32nd pass defence and Colts are seventh." True, but T.J. Watt missed seven games with a pectoral injury and now he's had one to shake off the rust. The best defensive player in football will make those around him better and life miserable for the mostly immobile Ryan, while Pickett will build off a decent performance (25-of-42, 265 yards, one TD) he had in last week's 37-30 loss to the Bengals – just the second time he's thrown more TD passes than picks … Steelers are 5-1 ATS in their last six games against the Colts and Indy is 1-5 ATS in its last six Week 12 games. That seals it for me.
TAKING: PITTSBURGH +2.5
SCORE (O/U 39.5): Steelers 23, Colts 20