Greater Vancouver Food Bank received almost 225 tonnes of food from a Langley composting facility that sorts discarded food.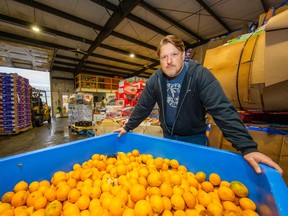 Stuart Lilley is seeing orange.
As citrus fruit floods grocery stores ahead of the holidays, thousands of imperfect oranges typically end up in B.C. landfills.
You are reading: Langley facility aims to fix 'broken food system' through food waste recovery
Lilley, the founder of ReFeed Farms, a "nutrient upcycling company," hopes to change that.
ReFeed diverts food waste to food banks and livestock through its Langley composting facility, using whatever is left as worm feed to create a natural fertilizer.
It's a departure from industrial composting that's led to almost 225 tonnes, or 500,000 pounds, of food going to the Greater Vancouver Food Bank over the last year. The company hopes the model can be exported to other regions to reduce food waste.
"Oranges are the most-wasted fruit right now," Lilley said Wednesday as he toured a group of biodynamic farmers through the ReFeed facility. "About 25 tonnes of oranges a day are dumped in this region."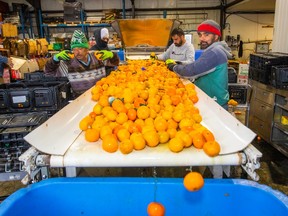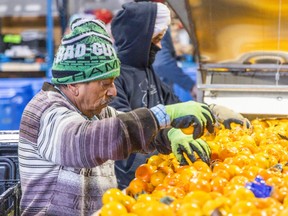 Readmore : The beautiful pink turreted mansion which comes with its own loch for sale in Perthshire
In a sorting room, the bright fruit rolls along a conveyor belt like a beam of Australian sunshine. But while the air smells sweet and tangy, the oranges aren't. In fact, they're bitter and inedible. The problem was detected after the fruit crossed the ocean to arrive at a B.C. warehouse, at which point it might have joined the 17 per cent of food wasted each year across the world.
Instead, ReFeed will use the citrus as worm feed. The worms turn the organic matter into a natural fertilizer, and the inputs that might have been wasted on a bitter fruit in an Australian orange grove — water, nitrogen and fuel — will nourish B.C. food crops, rather than rotting in a landfill.
Worm castings are only one part of the ReFeed story, said Lilley, but they're key.
Selling fertilizer helps the company turn a profit, which is critical to the long-term viability of businesses hoping to provide solutions to the climate crisis. In an industry where big promises garner grant money but often go unfulfilled, ReFeed is focused on creating a process that can work in other regions to fix the "broken food system."
Lilley calls himself a "disrupter." But the way he's disrupting the food system aligns with what a food system is supposed to do — that is, feed people.
In a way, ReFeed is a big regrading facility, pulling good, but sometimes ugly or small, produce from food waste and sending it to the food bank, like avocados that were half-a-centimetre too small for sale or green grapes that went unsold in summer. Other diverted food goes into "bounty boxes" for low-income families.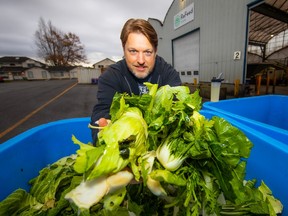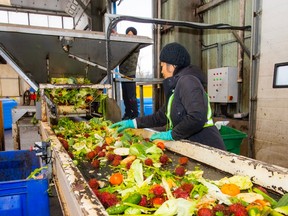 "It's high-quality food," said food bank CEO David Long. "Our policy is if we wouldn't give it to our kids or to our family, we wouldn't hand it out to our clients."
Readmore : More than 4K Canadian Forces members, families still waiting for military housing
About $500-million-worth of food is wasted in B.C. each month, he said, adding up to almost $6 billion a year. Canada produces enough food to feed 52 million people, more than enough for the country's population, but 4.5 million to 5 million people still go to bed hungry because they can't access or afford it.
Long said ReFeed represents a way to change that.
Unlike what Lilley calls industrial compost facilities, which take huge quantities of organic waste, ReFeed immediately moves much of the diverted food to people or animals. Through a partnership with local dairy farms, food that isn't fit for human consumption is used as livestock feed. That eliminates complaints about the smell that often plague large facilities.
Throughout Wednesday's tour, semi-trucks rolled in-and-out of the ReFeed yard, dropping off and picking up loads of food. In one bin, a colourful salad of lettuce, bok choy, onions, green peppers, egg plant and small tomatoes from a local grocery store awaited sorting.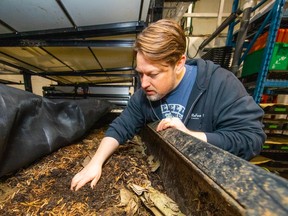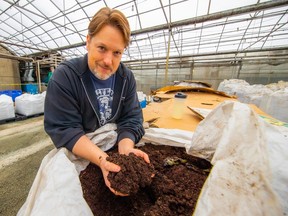 The final step in the food recovery process, which helps ReFeed achieve 100 per cent utility, takes place in a composting area. The air is warm and heavy around beds of worms that munch through a mix of manure, leaves and sorted produce to create a natural worm castings fertilizer.
Long said replicating ReFeed in multiple locations would have a big impact on B.C. food security. Another step would be partnering with food-waste haulers that too often look for the cheapest way to dump unwanted food, rather than working to save it.
"There's so much more to be done," he said.