Lawyer Brendan Miller chased after someone he believed to be Brian Fox, shouting at him a request to testify at the inquiry, but it was not Fox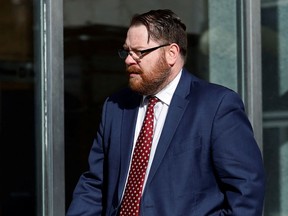 OTTAWA – The extraordinary controversy created by one of the lawyers representing some Freedom Convoy organizers at the Emergencies Act inquiry took more strange turns on Thursday.
Lawyer Brendan Miller was served Thursday with a libel notice by Brian Fox, a public relations executive that Miller had accused of parading a Nazi flag at the Freedom Convoy protest in Ottawa, allegedly to discredit the protest.
You are reading: Freedom Convoy lawyer behind 'false flag' allegations is served libel notice, then chases someone
And Miller also chased after someone he believed to be Fox, shouting at him a request to testify at the inquiry, but it was not Fox.
Miller based his claim on what he has said is a resemblance between photos of Fox available online and the Nazi flag-bearer in a photo that was circulated widely. The face of the individual in the flag-bearer photo is partially obscured by shadow and sunglasses.
Miller has also provided an affidavit — described as "untested" by inquiry commissioner Paul Rouleau — by a man who purported to have recognized Fox from Miller's photos after claiming he spoke with the man who carried the Nazi flag at the protest.
Miller's allegation was described as "troubling" by Rouleau in a ruling Wednesday. Rouleau rejected Miller's request to call Fox to testify, saying it would be a "very significant distraction. The inquiry is meant to determined whether the prime minister invoking the Emergencies Act on Feb. 14 to end the Freedom Convoy protest was justified.
Readmore : Pet Owners: All Of Your Cleaning Must-Haves Are At Walmart
But a surreal moment occurred barely an hour later, when Miller exited the inquiry room in the middle of hearings and chased after someone whom Miller evidently believed was Fox (who lives in Toronto).
"Brian Fox, I want to talk to you," Miller yelled as he ran after the man, who was in fact a well-known Ottawa lobbyist named Greg MacEachern. "Would you agree to testify? I can get the commissioner to organize it."
MacEachern eventually turned around and yelled back, "who do you think I am?" as security guards quickly stepped between both men. MacEachern then headed to the foyer bathroom as Miller walked away.
Reporters in the foyer informed Miller of MacEachern's identity. The lawyer laughed as he realized his mistake before heading back to the hearing room.
A few minutes later, he returned to the foyer to apologize to an irritated MacEachern who was preparing to leave the building, but MacEachern called the lawyer an "idiot" and told him to stay away from him as he exited.
Miller laughed, turned to a group of reporters, admitted his mistake and called it "hilarious."
"Well apparently, there you go, there's a hole in my case. Apparently, there's a lot of people out there who look like Mr. Fox," he said before referring to his own client Tom Marazzo, who he says first told him MacEachern was Fox, as an "idiot".
That was followed by an impromptu scrum between reporters and Miller, during which he was repeatedly asked to provide evidence he claims demonstrates that Fox was the Nazi flag bearer. Miller refused. At one point, he hugged a reporter who was grilling him.
He admitted that when Freedom Convoy organizers first told him their theory about the Nazi flag bearer being a covert Liberal operative, it sounded "kind of nutty" and that he wouldn't "usually believe in that."
But then his team did "data analytics," "tracing" and "things like that" to arrive at the theory that Fox was the unidentified man in the photos. Miller then submitted that evidence to the commission as part of his request to have Fox testify.
It was in response to that request that the commissioner ruled this week that it would be a distraction and the allegations had "little foundation in evidence".
Miller declined to provide more details of the methods he had used to determine his theory about Fox, and called on media to "get off your asses and get in there" to demand the documents he said he submitted to the commission but could not give to reporters. He accused Ottawa reporters of "politically pandering" to government.
Miller said he welcomes a lawsuit from Fox as he believes it would bring to light evidence to prove his case, including Fox's client list, phone logs and evidence of Fox's whereabouts during the Freedom Convoy protest.
Fox's lawyers have said that he has not been to Ottawa since 2019 and that he is a supporter of the federal Conservative party.