B.C. Liberal leader Kevin Falcon said the B.C. NDP government "cannot just equate more spending with better outcomes."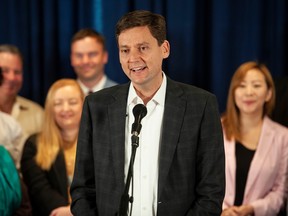 Premier David Eby has been on the job for one week and made four announcements relating to housing, public safety and inflation relief. The price tag: $1 billion.
Eby is largely drawing from the $1 billion contingency fund set aside in the 2022-23 budget for inflation relief measures.
You are reading: David Eby's announcements total $1 billion in first week as premier
"Because we're growing our economy, because people are choosing to move here to start their lives, our government is in a strong fiscal position and we're able to provide support on a whole array of fronts," Eby told reporters Wednesday.
However the announcements aren't earning the new premier any pats on the back from his chief rival, B.C. Liberal leader Kevin Falcon.
The MLA for Vancouver-Quilchena said while he's "always happy when money goes back to taxpayers" the credits are too little, too late. The "tiny gift back," Falcon said, is "not much consolation" for British Columbians who have been struggling for months to pay rising costs due to inflation and the highest fuel prices in North America.
Readmore : Stevie Nicks & Fleetwood Mac Mourn Christine McVie After Her Heartbreaking Death At 79
Alberta, Falcon noted, temporarily waved its 13-cent-a-litre provincial gas tax from April to September and is giving Albertans $300 worth of electricity rebates.
"You cannot just equate more spending with better outcomes," he said, noting violent crime is out of control and the health care system is in crisis.
Finance Minister Selina Robinson said the government can afford the spending thanks to B.C.'s strong economic recovery following the COVID-19 pandemic.
"We've been very thoughtful about our decision-making as a government over the last five years and it keeps us in a good fiscal position," she told reporters Thursday.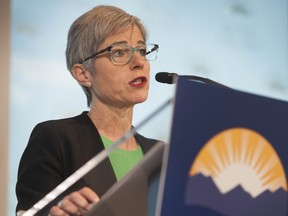 Robinson on Friday is expected to release the province's second quarterly report, which will provide the latest financial picture for the 2022-23 fiscal year.
Readmore : Benjamin Jansen jailed over Brisbane hotel room killing of Rex Kable Keen almost 50 years later
The province was heading into the current fiscal year $1.3 billion in the black according to the final audited budget for 2021-22, a dramatic turnaround from the projected $10 billion deficit.
Alex Hemingway, a senior economist for the Canadian Centre Policy Alternatives' B.C. branch, said B.C. has the financial wriggle room to spend significantly more on the overlapping crises of the toxic drug supply, housing and health care.
According to an analysis of B.C.'s public accounts, Hemingway found that B.C. has a large pool of unallocated "fiscal padding" built into the budget which amounts to $20 billion over the next three years
"We actually have this very significant backlog of need for social spending and investment to address toxic drugs, to address the housing crisis, climate change, health care," Hemingway said. "We've been through a very long period, a couple of decades, where we've been chronically underinvesting in the public sector."
The bill, which passed in the legislature Thursday, also gives the province power to override municipalities by approving housing projects or rezoning entire neighbourhoods to allow increased density.
The bill does not have money attached for the amenities but Murray Rankin, minister responsible for housing, said Wednesday in the legislature that the province "will come to the table as a willing partner" with the hopes the federal government will also pony up infrastructure cash.