Ready for it all, the GR Corolla comes through as a rally car for the road.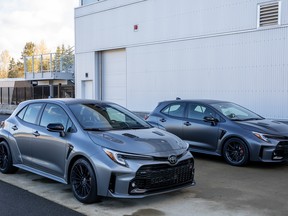 The GR Corolla is Toyota's pocket rally car that you could drive every day. Or am I getting ahead of myself?
In 2016, Toyota's racer-gearhead CEO Akio Toyoda decided he wanted the company to compete in the World Rally Championship. The only issue? It didn't have a car they could field.
You are reading: First Drive: 2023 Toyota GR Corolla
The result of this was the Toyota GR Yaris, which used an entirely distinct body shell and drivetrain from the standard Yaris and quickly proved a major threat on the WRC circuit. Though that rally Yaris never came to Canada, Toyota has installed that same drivetrain into a Corolla hatchback body to give us the new GR Corolla.
The 2023 Toyota GR Corolla is technically based on the standard 5-door Corolla hatch, but you won't mistake one for the other. Besides a unique front fascia and a signature rear bumper design with three exhaust outlets (one per cylinder!), the GR's chunky fender flares make it 105 mm (4″) wider than a standard car. It's also built exclusively at Toyota's Motomachi plant, birthplace of the Lexus LFA supercar. The assembly plant has no conveyor belt, and the GR Corollas are assembled with a more human-centric manual assembly process. Talented at this plant is recruited from across the company for this specific assignment.
The heart that makes the GR Corolla so special is its powertrain, with a unique engine not sold in any other line. The G16E-GTS is Toyota-speak for a 1.6L inline three-cylinder engine with a single turbocharger. That turbo puts 25.2psi of boost down the triple's intake to generate an impressive 300 hp at 6,000 rpm and 273 lb-ft from 3,000-5,000 rpm. Like many other high-boost engines, the G16 uses direct and port fuel injection to feed pressurized air and to enhance chamber cooling. It's essentially the same engine as was used in the not-for-here GR Yaris, but with larger exhaust vales and a few other tweaks to make 32 hp more than before.
Carried over from the Yaris is the sensational GR-Four AWD drivetrain. All-wheel drive is standard on the GR Corolla, and in Canada we get standard limited-slip diffs front and rear. The torque split fore and aft has three settings: 60:40 for everyday driving, 50:50 for ultimate lap times, and 30:70 for when you want to slide around with the tail out. The torque split can be adjusted on the fly via a dial on the centre console.
Readmore : U.S., NATO be aware Ukraine military positive factors however see warfare dragging on
The starting price for the GR Corolla in Canada is $45,490 for the Core model, which Toyota predicts will account for 75% of sales. Buyers can upgrade to the $53,990 Circuit trim, which includes a vented hood, carbon-fibre roof, heated front seats, and a heated steering wheel.
The only transmission offered on the GR Corolla is a delightful close-ratio six-speed manual. It's only a single overdrive (6th is 0.902:1), and the space between gears is sportingly close. Rowing through those gears the GR Corolla feels alive and playful. With 300 horsepower in such a small car, the next gear is never very far away.
I had a chance to drive various trims of the GR Corolla on road and on the track. Let's start with the road experience.
The first thing you notice is how different and special the GR Corolla feels versus a standard Corolla. Sure, parts like the door cards are standard pieces, but the front seats are unique and the GR gets a unique digital dashboard arrangement with central tach and boost gauge.
Once running, the warble of the three-cylinder engine is a constant reminder that this car is something special. That sound is punctuated by the chirps and flutters of a wonderfully talkative turbo and wastegate system that will have your mind recalling Group-B compilation videos on YouTube.
Three hundred horsepower in a compact, light-weight car makes for a fast combination, but throw in a close-ratio six-speed transmission and the GR Corolla feels absolutely rapid when going up through the gears. The shifter is sublime, and while it may not match the Honda Type R for ultimate satisfaction, it's one of the very best manual transmissions you can buy today. Toyota did excellent work here.
Another point I noticed on the road is the relatively soft springing and long suspension travel for such a sporty car. Compared to the new Honda Civic Type R, the Corolla GR takes bumps better and feels more confident over broken and uneven pavement. My road-loop was on a narrow undulating cottage road that no doubt would have upset the taut Type R. To me, this shows that Toyota intends the GR Corolla to be a performance car adept in all seasons and conditions and not simply a dry-weather tarmac special. To get nostalgic, it reminded me of driving a 1990s Subaru GC8 STi in high school. This is how Subaru STis used to feel.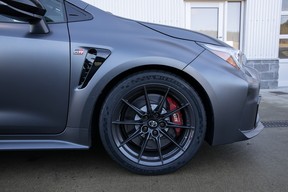 Readmore : Ottawa driver, 16, faces string of charges after fleeing RIDE check, crashing into fence
But does that magic translate onto the track? I did some laps in a Morizo-Edition GR Corolla to find out. The Morizo is a limited-edition model of which just 10 are coming to Canada, and for which owners will have to audition to Toyota for the privilege of paying $59,990 for one. The Morizo runs an additional 1.1 psi of boost (for a total of 26.3 psi), which according to Toyota makes 22 additional pound-feet of torque and no additional horsepower. The lack of a horsepower increase is pretty hard to believe, and it's my personal suspicion that Toyota simply didn't want to re-certify a new hp rating for such a limited production model. Read into that what you will. Beyond the extra boost, the Morizo gets a completely new gearset with even more closely spaced gears.
It's worth noting that these changes hardly affect 0-100 acceleration times. The standard model will do it in 4.99 seconds and the Morizo will do it in an imperceptibly faster 4.92. But there are other changes too. The Morizo gets special shocks, unique 18″ forged wheels with Michelin Pilot Sport Cup 2 tires, two additional floor braces, and one additional strut brace. In the interest of weight savings, the rear seat has been removed, the rear windows no longer go up and down, and the rear window wiper has been sacrificed. This means it weighs 29 kg less than the Circuit trim and 45 kg less than the Core trim.
The Morizo only comes in a unique colour called Smoke Grey, and there are already 2,500 applicants for the 10 cars. If you want one, you'd better move quickly.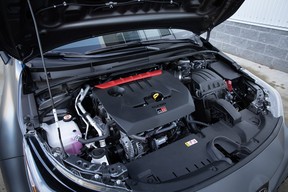 Running up the hill at Vancouver Island Motorsport Circuit, the Morizo feels noticeably more manic than the standard versions. The lack of a rear seat means you'll hear that rally-bred exhaust pinging off the walls of the track and every single pebble pickup by the sticky Michelins. I can also report noticeable wind noise above 160 km/h.
Unconstrained by speed limits, the GR Corolla is a joy on the track. It feels eager, willing, and communicative. The short wheelbase certainly keeps you on your toes, and I found the 30:70 rearward torque split too twitchy and much preferred the 50:50 setup for track driving. In that setting it claws out of corners, powers down the straights, and rotates nicely on corner entry to allow you to do it all over again.
The Morizo makes the GR Corolla feel more racy and special, but I wouldn't feel too bad if you aren't one of the lucky few to be selected to buy it. Those who buy the Core and Circuit trims will be having exactly 97% the fun of Morizo owners, so you're really not missing out on much.
The GR Corolla is everything we hoped it would be: fast, fun, engaging, and (reasonably) affordable. It's a pocket rally car that you can commute to work in, bomb down a fire road, or don a helmet to slide around a race track. It's a car that can do it all.