Cramming seven grown women into one minivan, in the pursuit of cheese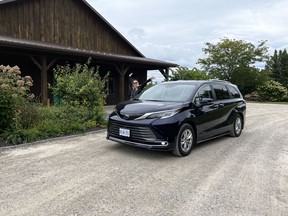 My best friend of nearly four decades is getting married, which means I find myself with one of the most solemn duties a woman can be tasked with in her lifetime: I'm to be a maid of honour.
And let me tell you, being a maid of honour for the first time in your mid-40s is a trip. Lovingly packaging bridal shower favours hits different when you're fitting it in between board of directors duties and bedtime routines. But I adore my best friend, I'd do anything for her, and I wouldn't want one second of this to be any other way, and so here I mostly just digress.
You are reading: Exploring Ontario's cheese county in a 2022 Toyota Sienna
Anyway, one of the most important duties of the position is planning the perfect bachelorette party. For this, there are a few unspoken rules. For example, it should be something designed solely around the bride's preferences yet approachable for those she's selected to come along.
We're well past the drinks-all-day stage of our lives, so extended wine tours and late nights at the club are out of the question. Being that it's an autumn wedding and we already live in one of the most beautiful places in the world to be when the weather gets cooler, it seems a shame not to take advantage of it.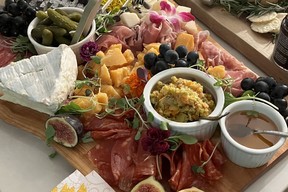 And more than anyone else I know, my bestie is a really, really big fan of cheese.
Thus, an idea is hatched: load up a vehicle with bestie, a driver, and five more of her closest friends, and enjoy a cheese tour in Ontario's Oxford County. A trio of fantastic cheesemakers are all located within an easy afternoon's drive of one another about an hour and a half west of Toronto. It's a fabulous day out, and capping it off with a catered meal at home makes for an ideal way to celebrate our bride and her impending nuptials.
Readmore : Teacher struck off register after having sex with former pupil in hotel room
But here's where the pressures of my job come in: as a professional auto reviewer, selecting the vehicle for such activities and driving said vehicle are two more duties that naturally fall into my lap.
So, if I'm looking for something that will seat seven adults comfortably and that I won't mind driving for a few hours straight, and I have pretty much the entire automotive industry at my disposal, what do I choose?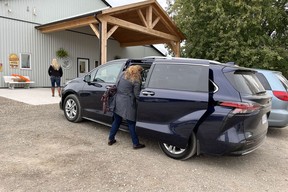 Don't boo or roll your eyes. The Sienna really is, bar none, the best choice for this job. Settle in for my dissertation:
A slightly muddy gravel road is the most challenging part of our route, so ground clearance isn't a critical factor. Minivans apply that vertical height to the interior instead, which creates more spaciousness and comfort for our esteemed guests. And the lower load floor makes getting in and out all day much easier. Point for the Sienna.
Some buyers consider it critical to be able to get both of a minivan's rows out of the way for carrying large cargo, as the Chrysler Pacifica offers in its Stow 'n Go seats. We don't need this functionality, so the fact that the second-row seats in the Sienna and other minivans can't be removed doesn't take them out of consideration for us. The second-row captain's chairs in the Sienna Limited have some niceties like ottomans as well as plenty of track and recline, but unlike the ultra-fancy VIP seats in the Kia Carnival, the Sienna's buckets can be pulled forward for direct access to the third row, which we knew we were going to need all day long. Score another point for the Sienna.
The bride's household drives a Tesla Model S and a Volvo XC60 plug-in hybrid. In other words, a nod to sustainability won't go unnoticed, and I don't particularly enjoy spending more on fuel than is necessary anyway. The Sienna's standard hybrid powertrain averages an NRCan-estimated 6.7 litres per 100 kilometres combined with AWD. This is bested in the segment only by the Chrysler Pacific Hybrid, which averages 2.9 litres-equivalent per 100 kilometres. But that's because the latter is a plug-in hybrid, which will run out of charge 51 kilometres into our roughly 300-kilometre round trip and average 8.0 L/100 km the rest of the way, and its rear seats won't be quite as comfortable while doing it. Game, set, match for the Sienna.
Finally, the big day arrives. Our guests draw straws for who's going to enjoy the spacious captain's chairs and who's stuck three-wide in the back bench (and ultimately decide, very diplomatically, to swap seats at each stop to share the amenities fairly). We all settle in — surprisingly, without a single comment about our chariot being an unfashionable mom-mobile, but perhaps everyone is just being polite — put on the Spotify playlist of '80s and '90s pop hits we've jointly and lovingly curated, and set off toward cheesy bliss.
Our first stop is Gunn's Hill Artisan Cheese, a family-run producer based in Woodstock. Cheesemaker Shep Ysselstein trained in the Swiss Alps, while the third-generation Holstein farm next door, where the milk originates, is run by Ysselstein's father and brother. A wide variety of products from soft-ripened to aged and beer or wine-soaked cheeses is available at the shop, and fresh curds are available each week on Fridays and Saturdays until they're sold out.
Next up, we head to Bright Cheese and Butter, Canada's oldest registered independent cheese company. This small shop at the outskirts of the village of Bright offers a selection of house-made semi-hard cheeses such as cheddar, Colby, and Havarti. Bright's cheeses tend to be lower in moisture than average, which makes them especially rich and ideal for melting.
Readmore : Bolsonaro contests Brazil election, demands votes be anulled
We wrap up our itinerary at Mountainoak Cheese just outside New Hamburg, a shop that specializes in Gouda in all its forms. Adam and Hannie van Bergeijk learned the cheesemaking craft in their native Netherlands before moving to Canada in 1996. You'll find Gouda that's aged, smoked, or flavoured with fenugreek, chili peppers, black truffle and much more, along with curds, quark (a type of fresh cheese), and more. And sometimes, a friendly cow or two will wander up to the gates to say hello.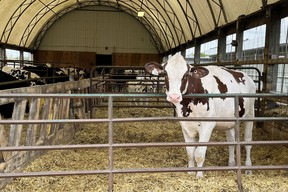 So, as we turn back toward Toronto, what observations are shared from the back of the bus?
The captain's chairs receive rave reviews. One passenger quips that hers is more comfortable than any seat in her own house. (I think she might need a new couch, in case someone out there is looking to donate.)
There also isn't, at any point, a huge hurry to make an exodus. An eighth friend who lives further west joins us at our first stop, and I fully expect to lose a few passengers as soon as the opportunity arises to spread out. Instead, all seven ladies pile back into the van before we exit Gunn's Hill, and as we pull away someone says from the third row, "oh, I guess one of us could have hopped into the other car." One person chooses to go to the second car following our next stop, but I'm told it's as much to keep our friend company as for comfort's sake. That's about as glowing a review on a minivan's interior space as one can hope for.
From the driver's seat, I'm pleased, too. The Sienna's all-wheel drive system has its chance to shine on the wet gravel road leading up to Gunn's Hill, and its surefootedness keeps our guests chatting away in the back without so much as a lifted eyebrow. And the afternoon ends with a fuel consumption average of 7.1 L/100 km, which is better than I'd expected given that the Sienna is laden with seven adults and a cooler full of cheese.
We arrive back in Toronto and enjoy a multi-course dinner to cap off a perfect day. And once again, experience shows that the minivan — in all its unfashionable utility and practicality — doesn't deserve its bad rap.