Sometimes smaller is better — the Rogue offers more room in a smaller, more fuel-efficient compact SUV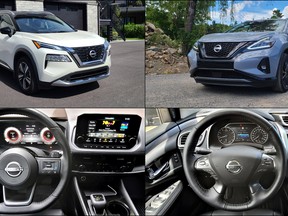 For this comparo featuring two Nissan SUVs, we're going to do things backwards, okay? Instead of starting with the cheaper and smaller sport-cute utility vehicle and then moving up to its larger, more expensive sibling, we're going to do the opposite. That's because, in the case of the Rogue-Murano comparison, the "little" brother definitely overshadows its bigger brethren.
Overview
Automotive journalists who swap steering wheels every week will surely tell you the Nissan Murano is old-fashioned. But that's precisely what makes it, in our opinion, a charm. That, and the fact that it's still powered by a V6 engine — the good old 3.5-litre V6. Paired with a continuously variable transmission (CVT), it produces 260 horsepower and 240 lb-ft of torque.
You are reading: Nissan Rogue or Nissan Murano: Which model and trim should you buy?
Beginning with the 2022 model year, the entry-level two-wheel-drive variant is no longer sold on the Canadian market. The Nissan Murano only comes with all-wheel drive, starting at $37,498 (plus $1,920 in freight and delivery charges). For the most opulent Platinum version, you'll have to fork over $50,018 (freight included), plus taxes.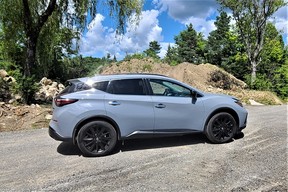 Additionally, brand-new this year is a three-cylinder turbocharged engine with variable compression that manages to produce 201 horsepower and 225 lb-ft of torque along with impressively frugal consumption.
3 reasons to choose the Nissan Murano
The good ol'timer: If you recently shopped for a new vehicle, perhaps you were overwhelmed by unfamiliar controls that need to be activated by touch or voice, which, in the pursuit of the avant-garde, have transformed car cabins into aircraft cockpits. The good news is that with almost a decade since its last revamp, the Murano offers the best of traditional automotive interiors. And does it ever feel good. An example? Before testing the Nissan Murano, we drove its luxury counterpart, the Infiniti QX55 and spent much of that week continually searching for our bearings. It was a relief to jump behind the wheel of the Murano and quickly adjust the seat and mirrors, pair our cellphones, and operate a shift lever that doesn't try to reinvent the wheel.
Old doesn't mean dated: The Nissan Murano's venerable age hasn't stopped it from keeping up with the most modern driving assistance technologies. Not only is its security suite (Nissan Safety Shield 360) complete, thanks to its emergency braking even in reverse mode, it is also effective. The Murano also gets Nissan's Zero Gravity seats, which are among the most comfortable automobile seats at the moment. Styling-wise, the Murano has also aged well, having received Nissan's new visual signature: an even more pronounced V-shaped grille. That said, let's remember that the Murano was one of the first vehicles with a "floating" roof, making its urban silhouette at the forefront of its time.
For its (too rare) V6 engine: We already know that V6s are on the way out, to be replaced by smaller four — sometimes even three — cylinder engines, turbo or not. Nonetheless, we love Nissan's 3.5L for its creamy performance (260 hp and 240 ft-lb of torque), but also for one of the best sounding exhaust systems in the SUV segment. On the other hand, it is paired with a continuously variable transmission and, as you no doubt know, CVTs have still to win drivers' hearts. However, Nissan's version is blessed with "D-Step" logic that simulates actual gear shifts, so as to deceive the ear. Just one small regret; as a result of using the CVT, the Murano's towing capacity of 680 kg (1,500 pounds) is among the least generous in the category.
Which Nissan Murano should you buy?
Readmore : Scots mum about to turn out to be granny dies two days after most cancers analysis
With a fourth generation to be introduced very soon (hopefully), and with the fierce rivalry of competitors (think Honda Passport, Hyundai Santa Fe, Toyota Venza Hybrid or VW Atlas Cross Sport), the aging Nissan Murano has no other choice but to offer a lot as standard equipment.
So, we would recommend its basic version S AWD, starting at $39,418 (freight included). But then again, for $4,150 more, you get the Murano SV AWD (starting at $43,568) that adds an even more impressive list of items: panoramic sunroof, driver's seat electrically adjustable in ten positions, heated steering wheel, leatherette upholstery, remote starter, motion-operated tailgate, adaptive cruise control and the famous Around View monitor — one of the best backup cameras in the segment.
3 reasons to choose the Nissan Rogue
All that said, before calling your dealership to put a deposit on a Murano, consider this: For roughly the same amount of money, you could get a more modern and tech-savvy SUV, one that sips up to half the fuel and isn't even that much smaller.
For its tech-savvy tour de force: Do you think the only way to average 6.2 L/100 km on the highway in an AWD SUV is hybridization? Well, Nissan's Rogue, with its new 1.5-liter three-cylinder turbo aided and abetted by super high-tech variable compression, manages to do it without any electrical boost. The upscale versions of the Nissan Rogue (SV and above) are now swapping the naturally aspirated four-cylinder (2.5 litres) base engine for an advanced three-cylinder turbo with a new technology: variable compression ratios. It's able to vary the stroke of the pistons, according to conditions and needs. That means the engine's compression ratio can be adjusted continually from 8.0:1 to 14.0:1. Despite losing one cylinder, the 1.5L boasts 11 per cent more horses (to 201-hp) and 24 per cent more torque (to 225 ft-lb at just 2,800 rpm) than the base engine, and still ekes out better fuel consumption — on the highway, at least — than some hybrids. In fact, the 6.2 L/100 km is below what we averaged in the new 2023 Honda CR-V Hybrid AWD (7.2 L/100 km on the highway). In other words, thanks to its new variable compression ratio system, its frugality is disguised by its ample and linear power, truly impressive from such a small engine.
"Smaller," you said? As confirmed by Nissan, the compact SUV offers more cargo space than the mid-sized Murano whether the rear seats are raised (+12 per cent) or folded down (+10 per cent). The Rogue is shorter than the Murano by 250 millimetres, narrower by 76 mm and has a shorter wheelbase by 119 mm. But, excluding the rear legroom — 50 mm less generous than in the Murano — all other interior dimensions are in favour of the supposedly smaller Rogue. There's even a substantial 30 mm extra headroom at the front, which is something taller than average drivers will want to consider.
A cabin worthy of luxury SUVs: With its black-chocolate two-toned leather, its premium materials, its smooth boiseries, the ergonomics of its dashboard and its large panoramic roof illuminating the ride, the Nissan Rogue boasts a cabin that has the feel of a luxury SUV. This coup d'oeil is impressive, especially in the Platinum trim, which is the only one to offer the 12.3-inch digital mega-cluster and diamond-pattern seats upholstered.
Which Nissan Rogue trim should you buy?
Since the base S versions (FWD and AWD) do not get the new three-cylinder for which we just praised performances and frugality, our recommendation goes to the more upscale Rogue equipped not only with this turbo VC engine, but also with AWD, the panoramic roof and the fantastic Around View rear camera.
Readmore : Sentencing in B.C. sextortion case expected to wrap up
The SL trim is, in our opinion, the best value for money in the whole lineup. For a price tag of $42,918 (freight included), virtually nose-to-nose with the Nissan Murano recommended earlier, you get a load of equipment, starting with tri-zone automatic climate controls, wireless Apple CarPlay, driver's seat memory, motion-triggered power liftgate, heated rear seats and Divide-N-Hide cargo storage.
That said, the Platinum trim of the Nissan Rogue also caught our attention, its price of $45,168 (including freight and delivery fees) adding interesting exclusive items, such as a head-up display, diamond-patterned leather seats, 12.3-inch cluster, remote folding rear seats, and the 11-speaker Bose sound system.
Conclusion
Thanks to, or maybe because of its venerable age, the Nissan Murano is currently one of the easiest vehicles to get along with. Its controls are easy to decipher and it feels familiar, without being deprived of the modern goodies like the excellent compilation of driver aids. But modernity has been even more generous with the Nissan Rogue, notably with a new three-cylinder turbo engine that is so frugal on gas (and regular gas, at that).
Therefore, while we wait for the fourth-generation Murano, the smart way to spend your hard-earned money would be the Nissan Rogue. Not only is it showing the highway efficiency of a hybrid SUV, but on board, you don't have to sacrifice cabin comfort, cargo space or road manners. That's our recommendation… at least until the next generation of Murano hits Nissan dealerships.