'It all starts with me,' says the Vancouver captain. 'It's my work ethic and my habits in practice and during games in the pre-season. Guys notice that kind of stuff'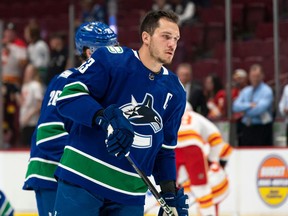 You play like you practise.
That's a much easier sell during the rigours of the National Hockey League regular season than plodding through the pre-season where players have different agendas in how to properly prep body and mind.
You are reading: Canucks' Bo Horvat demands more of self on ice, puts aside off-ice contract concerns
It's why compete can wane, mistakes can multiply and games usually lack fire and desire. And it's why Bo Horvat willingly takes on the extra burden as Vancouver Canucks' captain to do what he has always done: Keep the talk to a minimum and effort at the maximum.
He knows an 0-2-2 record with just five goals scored following a disturbing 4-0 loss in Seattle on Saturday isn't going to cut it.
"It all starts with me," he said Monday following a two-tiered University of B.C. practice in which a prospects-laden roster prepped for a test that night in Edmonton.
"It's my work ethic and my habits in practice and during games in the pre-season. Guys notice that kind of stuff and I have to be on top of my game whenever I play," he said.
"And that's something we definitely need to do these last (pre-season) games. We can definitely be a lot better as a group, but it still is the pre-season and there are cobwebs to get out and little things that you have to do to adjust and get ready for the season. 
"We just have to gear up and it starts with practice habits and it will translate to the game. We have things to get cleaned up in our game."
---
NEXT GAME
Monday
Readmore : George Grierson backs Irvine Meadow to dish out a battering as he sets points target
Vancouver Canucks vs. Edmonton Oilers
6 p.m., Rogers Place.TV: Sportsnet One. Radio: AM 650.
---
Compete is tossed around like a hot potato in the pre-season because of how much stock players should or shouldn't place on games that are much more crucial for those trying to crack the roster.
Again, Horvat isn't so sure.
"It's holding each other accountable and demanding more from each other and that's something you can control — how hard you compete and we can ramp that up going into the last three games" said the centre.
Horvat has always been a team-first guy and that's tougher when contract-extension talks are still at an impasse with a considerable salary gap between what the parties believe is prudent. Put is this way: It's a long way from his expiring US $5.5-million salary cap hit to $7 million.
"I've put it completely aside," Horvat said on the eve of training camp. "For me right now, it's just focusing on how I can make this team better and winning — honestly. I'm going to say the same thing over again if there are more questions about it.
"Eventually, things are going to come to fruition, and for me it's being the best leader and captain and a 200-foot guy who you can rely on every night."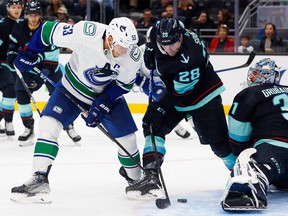 Canucks coach Bruce Boudreau is good at pushing the right buttons at the right time and he believed a little reassurance Monday can go a long way to remind his players of their potential. After all, is a pre-season win what matters most?
Readmore : Gio is STILL under Rangers pressure as Van Bronckhorst told January recruitment drive is make or break
"In the end, no," he said. "A few years ago when (Jared) Bednar took over Colorado, they went 7-0 in the pre-season and ended up with 48 points. I don't put a lot of stock in it (pre-season games), but you want to see the right things done and that's probably why I was upset the other night (Saturday).
"No matter who you have in the lineup, you never want to get outworked. We'll get down to our team pretty soon and we'll be fine after that. I have a lot of faith in this group and I told them that today, they're a really good team and we're going to ramp it up pretty soon."
J.T. Miller's motor usually runs hot and it's not quite up to temperature just yet.
The centre was a minus-4 on Saturday and had but one shot, and the methodical process of finding your game isn't always pretty or highlight-reel material.
"Sometimes, it's just a lot of timing and that might be a weird way of looking at it," he said. "It's when to go hard and when to be patient. You feel at a loss sometimes because it takes time and it will come back and we're going to get more comfortable.
"It's time to get dialled in and we should be by now and we should have our stuff together on the ice. Compete shouldn't take time to figure out and it should be there 100 per cent of the time and in your DNA as a team and in a standard that we hold ourselves to.
"It's getting into crunch time. There are going to be less people (players) around soon and we're going to look like our full team sooner than later, so it's time to start reeling stuff in.
"But guys are fighting for jobs to show what they can do, but we're ready to get our team together."
OVERTIME — Brock Boeser (hand) skated with injured players post-practice Monday but didn't take shots. "They're putting him through a lot of skating to keep his conditioning up," said Boudreau. "He wants to get back as soon as possible. I'm crossing my fingers and hoping for the best." He added that there's no injury update on Travis Dermott (undisclosed) and that Ilya Mikheyev (lower body) may skate Tuesday.
---